Women's Health Market Revenue To Beat $58.24 Billion Till 2030, Driven By Favorable Policies Initiated By Governments To Improve Women's Health And Raise Awareness | Grand View Research, Inc.
According to new report available with Grand View Research, the global women's health industry is expected to witness enhanced growth owing to the increase in the women geriatric population and the introduction of new products for women's health, such as Relugoliz and Orilissa among others, during the forecast period.
Women's Health Industry Overview
The global women's health market size was valued at USD 38.11 billion in 2021 and is expected to reach USD 58.24 billion by 2030, registering a CAGR of 4.8% over the forecast period.
Market growth can be attributed to the increase in the women geriatric population and the introduction of new products for women's health, such as Relugoliz and Orilissa among others. Furthermore, favorable policies initiated by governments to improve women's health and raise awareness are likely to drive the market over the forecast period. The market exhibited lower than the expected growth during the pandemic.
Gather more insights about the market drivers, restrains and growth of the Global Women's Health Market
Access to contraception and gynecological testing declined, raising the rate of unsafe abortions and unwanted pregnancies, especially in developing countries. For instance, according to the BMC, in the low- and middle-income countries, there has been around a 10% decline in the use of long- and short-acting reversible contraceptives, about 10% decline in essential services related to pregnancy care. All these factors led to a decline in market growth amid the pandemic. Women are more susceptible to various diseases, such as osteoporosis, osteoarthritis, endometriosis, and menstrual health disorders.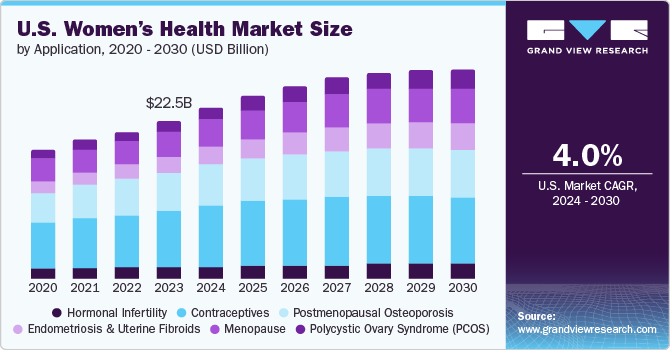 Around 73% of postmenopausal women experience hot flashes, fatigue, and sleep disturbances, which increase dependence on medications, impairing the quality of life. With aging and the increasing prevalence of obesity, the cases of osteoporosis are anticipated to grow. Some of the major factors leading to hormonal imbalance in women are stress, change in dietary habits, and alcohol consumption, which further cause fertility issues. Polycystic Ovarian Syndrome (PCOS), ovulation problems, and endometriosis are some of the major causes of infertility. According to the WHO, in 2021, globally, around 190 million women of reproductive age were affected by endometriosis.
These factors are anticipated to fuel the market growth. According to the United Nations, the Department of Social and Economic Affairs, approximately 1.1 billion women needed family planning in 2019, out of which, 190 million had unmet contraception needs and about 842 million used modern methods of contraception. Owing to the high unmet need for publicly-funded contraceptive services and products, federal & state governments are actively working toward improving family planning services and improving access to modern contraceptives.
For instance, in 2020, Germany's total multilateral funding for sexual & reproductive and family planning was around USD 121.85 million, an increase of about 65% from 2019. Furthermore, agencies, such as USAID run reproductive health & family planning programs in more than 30 countries, including South Africa & other African countries, where there is a high unmet need for contraception. However, there are various complications and adverse effects of prolonged use of contraceptives, which lead to an increase in the adoption of traditional contraceptive methods.
Long-term severe adverse effects of oral contraceptive pills, such as stroke, blood clots, decreased libido, vaginal discharge, and increased risk of breast cancer, may limit usage and lead to banning by regulatory agencies. Such factors could hamper the market growth during the forecast period.Few key products in the market are Xgeva, Evista, Prolia, Zometa, Mirena, Reclast/Aclasta, NuvaRing, Minastrin 24 Fe, Forteo, Actonel, Premarin, and Ortho Tri-Cy Lo (28). The market for NuvaRing declined by 3% in 2019 and 73% in 2020 primarily due to the introduction of generics following patent expiry in 2018 in the U.S.
Women's Health Market Segmentation
Based on the Application Insights, the market is segmented into Postmenopausal Osteoporosis, Hormonal Infertility, Endometriosis & Uterine Fibroids, Contraceptives, Menopause, and Polycystic Ovary Syndrome (PCOS).
The contraceptives segment held the highest market share of more than 33.00% of the global revenue in 2021 due to increased awareness about family planning and rapid technological advancements in contraception. In addition, favorable government regulations in countries, such as the U.S., coupled with the growing awareness about various contraceptive methods are projected to accelerate the demand for contraceptives.
The endometriosis & uterine fibroids segment is likely to grow at a significant CAGR during the forecast period. The growth can be attributed to the launch of new products for these conditions.
Based on the Age Insights, the market is segmented into 50 Years & Above and Others.
The 50 years & above age segment is expected to register the fastest growth rate of more than 6.00% over the forecast period as an increase in life expectancy is boosting the overall menopausal population across the globe.
The others segment, on the other hand, accounted for the largest market share in 2021 and is estimated to retain the leading position during the forecast period. Women aged below 50 years are of reproductive age, and women's health issues associated with this age group are more likely related to fertility, such as hormonal infertility, endometriosis, and polycystic ovary syndrome.
Based on the Regional Insights, the market is segmented into North America, Europe, Asia Pacific, Latin America, and Middle East & Africa.
North America dominated the overall market in 2021 and accounted for the maximum share of more than 41.00% of the global revenue. The region will expand further at a steady CAGR maintaining its market position over the forecast period.
Asia Pacific is expected to witness the fastest CAGR from 2022 to 2030 due to the factors, such as increasing awareness about women's health and wellbeing, rising geriatric population, and various government initiatives for increasing health awareness.
Market Share Insights
May 2021: The Food & Drug Administration approved Myfembree, developed by Pfizer Inc. in collaboration with Myovant Sciences, for uterine fibroids associated with heavy menstrual bleeding.
September 2020: Bayer acquired KaNDy Therapeutics Ltd, this acquisition was expected to expand Bayer's women's health drug development pipeline.
Key Companies Profile:
Key market players are adopting strategies that allow them to use resources to develop new products. New players are entering the market with innovative products, and major players are collaborating with small companies for new product development. Some of the key players in the global women's health market include,
AbbVie, Inc.
Bayer AG
Merck & Co., Inc.
Pfizer, Inc.
Teva Pharmaceutical Industries Ltd.
Agile Therapeutics
Amgen, Inc.
Apothecus Pharmaceutical Corp.
Blairex Laboratories, Inc.
Ferring B.V.
Order a free sample PDF of the Women's Health Market Intelligence Study, published by Grand View Research.
About Grand View Research
Grand View Research is a full-time market research and consulting company registered in San Francisco, California. The company fully offers market reports, both customized and syndicates, based on intense data analysis. It also offers consulting services to business communities and academic institutions and helps them understand the global and business scenario to a significant extent. The company operates across multitude of domains such as Chemicals, Materials, Food and Beverages, Consumer Goods, Healthcare, and Information Technology to offer consulting services.
Web: https://www.grandviewresearch.com
Media Contact
Company Name: Grand View Research, Inc.
Contact Person: Sherry James, Corporate Sales Specialist – U.S.A.
Email: Send Email
Phone: 1888202951
Address:Grand View Research, Inc. 201 Spear Street 1100 San Francisco, CA 94105, United States
City: San Francisco
State: California
Country: United States
Website: https://www.grandviewresearch.com/industry-analysis/womens-health-market