Fabry Disease Market Size and Share Analysis, Growth Opportunities, Current Treatment Practices, Emerging Therapies, Epidemiology Forecast | Key Companies – Idorsia Pharmaceuticals,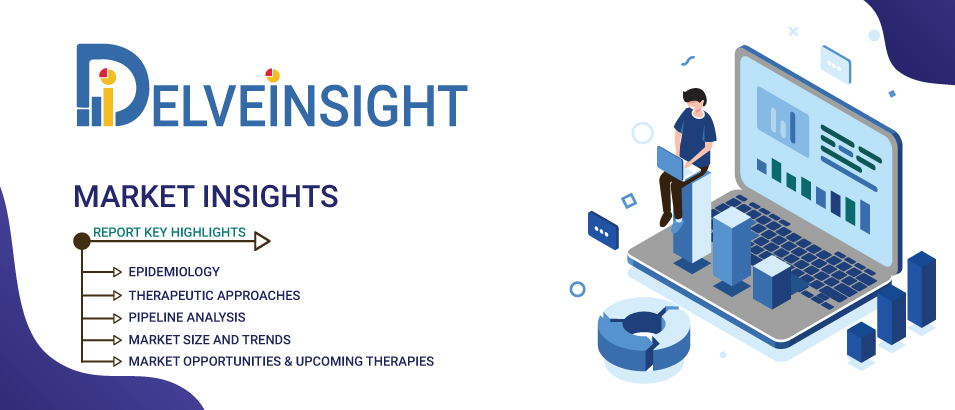 DelveInsight has launched a new report on "Fabry Disease Market Insights, Epidemiology, and Market Forecast-2032".
DelveInsight's "Fabry Disease Market Insights, Epidemiology, and Market Forecast-2032″ report offers an in-depth understanding of the Fabry Disease, historical and forecasted epidemiology as well as the Fabry Disease market trends in the United States, EU5 (Germany, Spain, Italy, France, and United Kingdom) and Japan.
Some of the key facts of the Fabry Disease Market Report:
The total market size for Fabry Disease was estimated to be USD 1,167.8 Million in the year 2021
The total prevalent cases of Fabry Disease in the 7MM were accounted to be 13,053 and the United States accounted for the highest cases of Fabry Disease in the year 2021
The EU5 accounted for 4,708 cases in the year 2021 and Japan accounted for the highest 437 cases
The United States accounted for 7,908 cases, and the highest cases were found in the age group of 10-19, which were 1,651 cases
According to the studies, the incidence of Fabry Disease is more in Males than Females
Request a sample for the Report: https://www.delveinsight.com/sample-request/fabry-disease-market
Key benefits of the report:
Fabry Disease market report covers a descriptive overview and comprehensive insight of the Fabry Disease Epidemiology and Fabry Disease market in the 7MM (the United States, EU5 (Germany, Spain, France, Italy, UK) & Japan.)
The Fabry Disease market report provides insights on the current and emerging therapies.
Fabry Disease market report provides a global historical and forecasted market covering drug outreach in 7MM.
The Fabry Disease market report offers an edge that will help in developing business strategies by understanding trends shaping and driving the Fabry Disease market.
Got queries? Click here to know more about the Fabry Disease Market Landscape
Fabry Disease Overview:
Fabry disease is an inherited lysosomal storage disease caused by a nonfunctional or partially functional enzyme, alpha-galactosidase A (α-Gal A). Decreased activity of α-Gal A in lysosomes results in the accumulation of enzyme substrates (Gb3 and lyso-Gb3) which cause cellular damage in tissues throughout the body.
It was once thought that Fabry disease only affected males, females were thought of as only "carriers." However, it is now known that both men and women can get Fabry disease, though it may manifest differently depending on gender.
Fabry Disease Symptoms:
The symptoms of Fabry Disease include-
Gastrointestinal complications
Headaches
Impaired sweating
Vertigo
Hearing Impairment
Body Fatigue and body aches
Numbness, or pain in the hands or feet
Fabry Disease Market
The dynamics of the Fabry Disease market are anticipated to change in the coming years owing to the expected launch of emerging therapies such as PRX-102, Lucerastat, AVR-RD-01, and others during the forecasted period 2019-2032.
Learn more by requesting for sample @Fabry Disease Market Landscape
Fabry Disease Pipeline Therapies:
PRX-102
Lucerastat
REPLAGAL
AVR-RD-01
Fabry Disease Pipeline Key Companies:
Idorsia Pharmaceuticals
Freeline Therapeutics
Sangamo Therapeutics
4D Molecular Therapeutics
Greenovation Biotech GmbH
Protalix Biotherapeutics
Table of Contents
1. Report Introduction
2. Executive Summary
3. SWOT analysis
4. Fabry Disease Patient Share (%) Overview at a Glance
5. Fabry Disease Market Overview at a Glance
6. Fabry Disease Disease Background and Overview
7. Fabry Disease Epidemiology and Patient Population
8. Country-Specific Patient Population of Fabry Disease
9. Fabry Disease Current Treatment and Medical Practices
10. Unmet Needs
11. Fabry Disease Emerging Therapies
12. Fabry Disease Market Outlook
13. Country-Wise Fabry Disease Market Analysis (2018–2030)
14. Market Access and Reimbursement of Therapies
15. Market drivers
16. Market barriers
17. Appendix
18. Fabry Disease Report Methodology
19. DelveInsight Capabilities
20. Disclaimer
21. About DelveInsight
Click here to read more about Fabry Disease Market Outlook 2032
About DelveInsight
DelveInsight is a leading Business Consultant, and Market Research firm focused exclusively on life sciences. It supports Pharma companies by providing comprehensive end-to-end solutions to improve their performance.
It also offers Healthcare Consulting Services, which benefits in market analysis to accelerate the business growth and overcome challenges with a practical approach.
Media Contact
Company Name: DelveInsight Business Research LLP
Contact Person: Gaurav Bora
Email: Send Email
Phone: +91 9568243403
Address:304 S. Jones Blvd #2432
City: Las Vegas
State: NV
Country: United States
Website: https://www.delveinsight.com